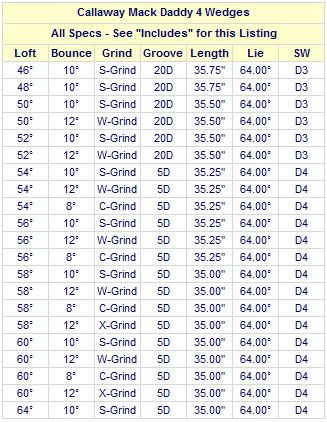 Four Sole Grinds to Suit a Variety of Playing Styles, Attack Angles and Course Conditions
        • C-Grind: Increased relief, especially at the heel, makes it easier to play a variety of shots with the face open. Ideal for medium-to-shallow attack angles and/or rough course conditions. 8° bounce.
        • S-Grind: Medium-width sole with slight ribbon at the back and moderate heel relief to keep the leading edge low through impact, promoting solid contact on open-faced shots. 10° bounce.
        • W-Grind: Sole is wider at the center and toe and narrower at the heel, with moderate heel relief and generous front-to- back camber. That prevents digging without increasing bounce, and keeps the leading edge close to the turf at impact. 12° bounce.
        • X-Grind: A narrow, high-bounce crescent sole, with the low point near the front. Excellent for moderate-to-steep attack angles and medium-to-soft course conditions. 12° bounce.
Callaway Golf Mack Daddy 4 Wedges ... Golf Digest 2018 Hot List Gold Medal Winner! Mack Daddy 4 is the new standard in wedge performance, led by Callaway's innovative new groove-in-groove technology for more spin.

Features and Benefits
• More Spin from Groove-In-Groove Technology - A unique suite of features and technologies promotes enhanced spin and control. The lower lofted wedges (52* and below) feature a 20D groove for consistent spin on fuller shots and the higher lofted wedges (54* and above) have an aggressive 5D groove for maximum control out of rough and around the green

• If you look on the club face, you'll see a 16-groove configuration, with a small extra "Nip-It" Groove near the leading edge for added control and inside of each of these main grooves, there is a series of even more aggressive micro-grooves to increase spin significantly. That leads to a lot more spin.

• Pro Tip: C-Grind and the new X-Grind Mack Daddy 4 wedges are ideal for golfers that like to play a variety of different shots or play at a course that offers a wide range of lies. W-Grind and S-Grind Mack Daddy 4 wedges are extremely versatile and ideal for golfers who primarily like to hit their wedge shots with a square face.

• Satisfying Feel from Soft Carbon Steel, Precise CG Locations and Crisp Turf Interaction - All three elements work together to deliver to remarkable feel at impact. Our system of four weight ports and milled aluminum medallions allows us to position the head's CG progressively upward as loft increases for solid feel on every shot.

• Tour-Inspired Shaping - Our most rigorously tested and Tour-validated wedge ever, leading to a more compact shape, straighter leading edge, and tighter leading-edge radius. The tight radius makes it easy for clean contact on tight lies for maximum spin and control.

• Source: Callaway Golf - Guaranteed Authentic product. While we are not professional photographers, we are players, and we strive to capture the true essence of each item. We try to point out the key facets and reveal flaws, if any, to help you to make an informed decision.. We take great care to accurately convey these details and hope you'll also have a chance to see that we offer the same excellent communication and service throughout your experience with us. We apologize for the lighting reflections but most of all, we hope to help you to play this great game with ultimate enjoyment!

NOTE: Photos below for representative purposes only.  Disregard loft and grind.  See "Includes" above for this Listing.