Cobra King F6 Hybrid - SILVER/BLUE 
Brand - Cobra 
Model - KING F6
Includes - 4/5 Hybrid with Matching Headcover & Adjusting Wrench
Condition - NEW, In Original Factory Packaging
Dexterity - Right Handed 
Shaft - Matrix Red Tie HQ4
Color - Silver/Blue
Shaft Flex - Ladies
Specifications - Please see chart below
Grip - Cobra Lamkin REL 360
COBRA KING F6 Fairways... 
• The F6 Hybrid is equipped with a fixed 13 gram weight. The weight is strategically positioned low and deep in the head for improved forgiveness while a lower centered CG position delivers easy up performance with extreme accuracy.
• Speed Channel is an exclusive COBRA innovation. An engineered channel around the perimeter of the face minimizes thickness and increases ball speeds across the face for greater distance.
• KING F6 Hybrids come with eight easily adjustable loft settings that help manage trajectory and fine tune launch conditions to maximize distance on any course, and with any swing.

SPECIFICATIONS - All Offered Specs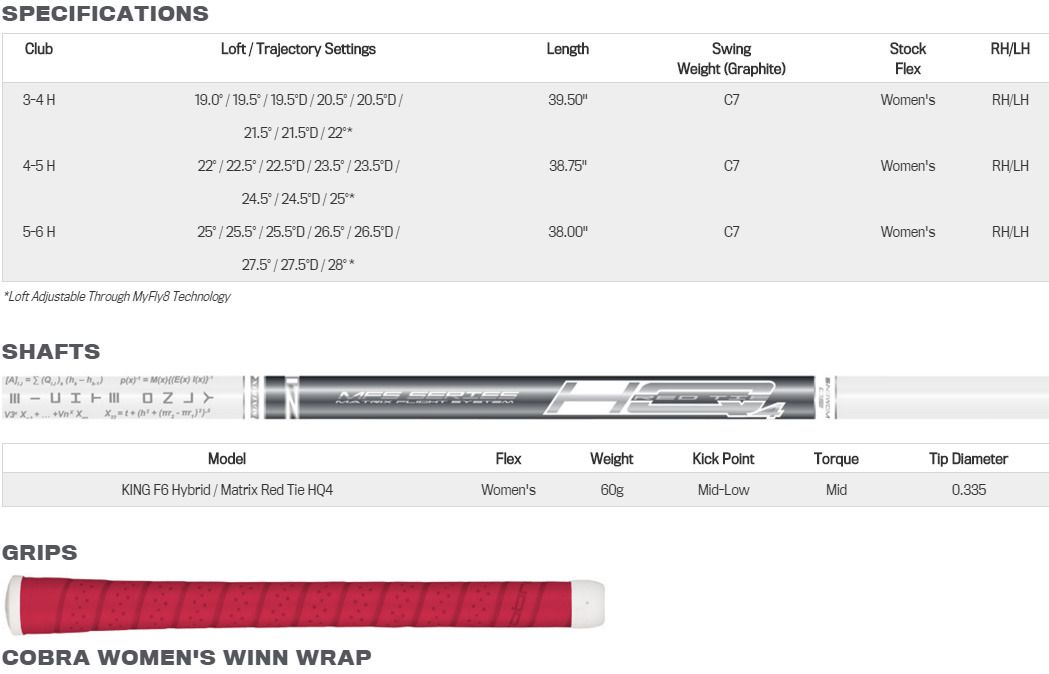 Source: CobraGolf.

Service...It's Our Business
• We have been in the golf equipment business for more than 25 years and  pride ourselves on honest and fair policies, quick and complete communication  and unending customer service. Our goal here is to offer excellent golf products  at great prices and to make your purchase as successful as possible. 
• Product Authenticity: Should you decide to purchase, you can be assured that  this item, and every item we sell, is genuine. We guarantee it. Your due  diligence is to research the seller and that will reveal who is trustworthy. 
• Item Condition: Unless otherwise stated, our products are new, just as they  come from the factory. Please be sure to review the detailed item description  section for details on the item and any accessories that may or may not be  included. We take great care to accurately convey these details and hope you'll  also have a chance to see that we offer the same excellent communication and  service throughout your experience with us. 

Payments
• We accept payment through PayPal only. If you do not have an account and  do not wish to sign up, you may sign in as a "guest" to use your credit card. 
• If your PayPal account is linked to a checking or other banking account,  payment may be considered an e-check and will not be shipped until PayPal  provides verification of payment. This may require 3-5 business days for  clearance. 
• Due to PayPal regulations, the address cannot be modified from the information  exactly as input when confirming the payment. If necessary, please contact  PayPal for more details

Shipping and Returns
• We ship Fast!!! Orders received and paid before 4:00pm Eastern Time on any  business day generally ship same day. We often ship on Saturdays as well! You  will receive an automated email with tracking confirmation.
• We will combine shipping for items that can ship together. Generally the  discount is 50% off the second (and any subsequent) shipping charge(s). If we  can do better, we will. When all purchases are made, send a "Request for Total  Amount" and we will send an invoice with the discounted shipping and to allow  you to pay for all items together. 
• International Buyers Please Note: Customs Duties VAT, brokerage fees etc. are  the buyer's responsibility. Documents are ALWAYS truthful. We cannot mark as  "Gift" & only with the actual values. For more, contact your local customs  office.
• We ship to over 30 different countries each month and are unable to keep up  with rapidly changing laws therefore are unable to quote customs charges.
• We accept merchandise returns. Product must be returned within 14 days,  COMPLETE, UNUSED, IN EXACTLY THE ORIGINAL CONDITION AND PACKAGING. Golf clubs  and putters cannot have been used, even once. And/or if the shrinkwrap has been  removed, it is not returnable. After use and should you discover a  manufacturer's defect, please make contact directly with the manufacturer. If  you need assistance with this, we will gladly help.
 © The Golf  Market All Rights Reserved