Project X HZRDUS Driver Shafts ... Project X HZRDUS golf shafts come in three models, the Black model, the Yellow model and the Red model. More information about the models is available below, as well as a spec chart to the left that includes all variations. See "Includes" above for which variation is included in this listing.

HZRDUS Black - Project X HZRDUS Black delivers insane distance for the stronger and more aggressive golfer, without sacrificing control. The shaft features increased stiffness along the full length of the golf shaft, which allows golfers to put more power behind the ball. HZRDUS Black is a low spinning and low launching shaft that is available in models for both woods and hybrids. 

HZRDUS Yellow - Project X HZRDUS is designed to deliver insane distance to the new stronger and more aggressive golfer, without sacrificing distance and control. The new HZRDUS Yellow is a backweighted low spinning shaft featuring a straight tapered midsection. This profile is perfect for players with a smooth tempo who want to reduce launch and spin rates. The backweighting allows for additional mass to be added to the head for increased ballspeed.

HZRDUS Red - Project X HZRDUS Red features the same ultra-stable midsection as HZRDUS Black with a more active tip for players who want a higher peak trajectory without sacrificing distance or control. 

While we are not professional photographers, we are players, and we strive to capture the true essence of each item. We try to point out the key facets and reveal flaws, if any, to help you to make an informed decision.. We take great care to accurately convey these details and hope you'll also have a chance to see that we offer the same excellent communication and service throughout your experience with us. We apologize for the lighting reflections of the shrink wrap, however our goal is to make sure you get exactly what you see. Most of all, we hope to help you to keep playing this great game!
This listing is for one shaft and our standard is to assemble with the adapter tip of your choice, trimmed to 44 3/8" finished length which, when after accounting for the grip and driver head, generally equates to approximately 45.5" actual playing length. Playing length may vary slightly based on the specific model. Should you prefer a different driver length or to use for fairway woods, please send us a message IMMEDIATELY AFTER purchase and we will be happy to accommodate.  

After adding your adapter tip, we will include an excellent quality, generic velvet style grip so that you can just pop it into your driver head and swing away.  Or, we can leave it ungripped if you prefer, but do not offer any other options.  Please be assured that our golf club repair and assembly shop takes pride in doing excellent work and we will turn around your request professionally, quickly and efficiently, guaranteed! 
 
The Project X Hand Crafted graphite shafts are proudly and meticulously built in Project X's San Diego prototype lab. Each shaft is made by hand, limiting production to 50-60 shafts produced daily. Getting a "Hand Crafted"' shaft means you are literally getting the same shaft you see your favorite Tour Players playing.  When you see the HandCrafted stamp on a shaft, you know you're getting the very best from Project X' small batch lab in San Diego, CA. Tighter manufacturing tolerances assure you that you're getting the highest quality shaft made by the same qualified 'Hand Crafted' technicians.
Key to reading the Dropdown Menu: First of all, there are different weight classifications for each of the shaft models to offer the very best fit. And, Project X uses a system to categorize their offerings unlike others. Instead of the standard flex designations such as Stiff and Regular, etc., they use a numbering system. In it's simplest form, the 5.0 designation is for Senior Flex, 5.5 equates to Regular, 6.0 is Stiff and 6.5 is Extra Stiff or "X" Flex. In our menu, you will also see shortened versions of the shaft model. For example, HZ is HZRDUS. Then, the shaft "color" is not merely cosmetic but is intended to precisely fit a "category or type" of player. Then the weight classification and the numerical flex designation. 

Please Note: Be sure to do your due diligence as to the specs and features & benefits and for whom the shaft is intended PRIOR to purchase. Be sure to read the key above to ensure that your selection is accurate. We are unable to keep our prices so low and accept returns on shafts after they have been used or "demo'd". Minimum 25% refund reduction charge based on returned condition.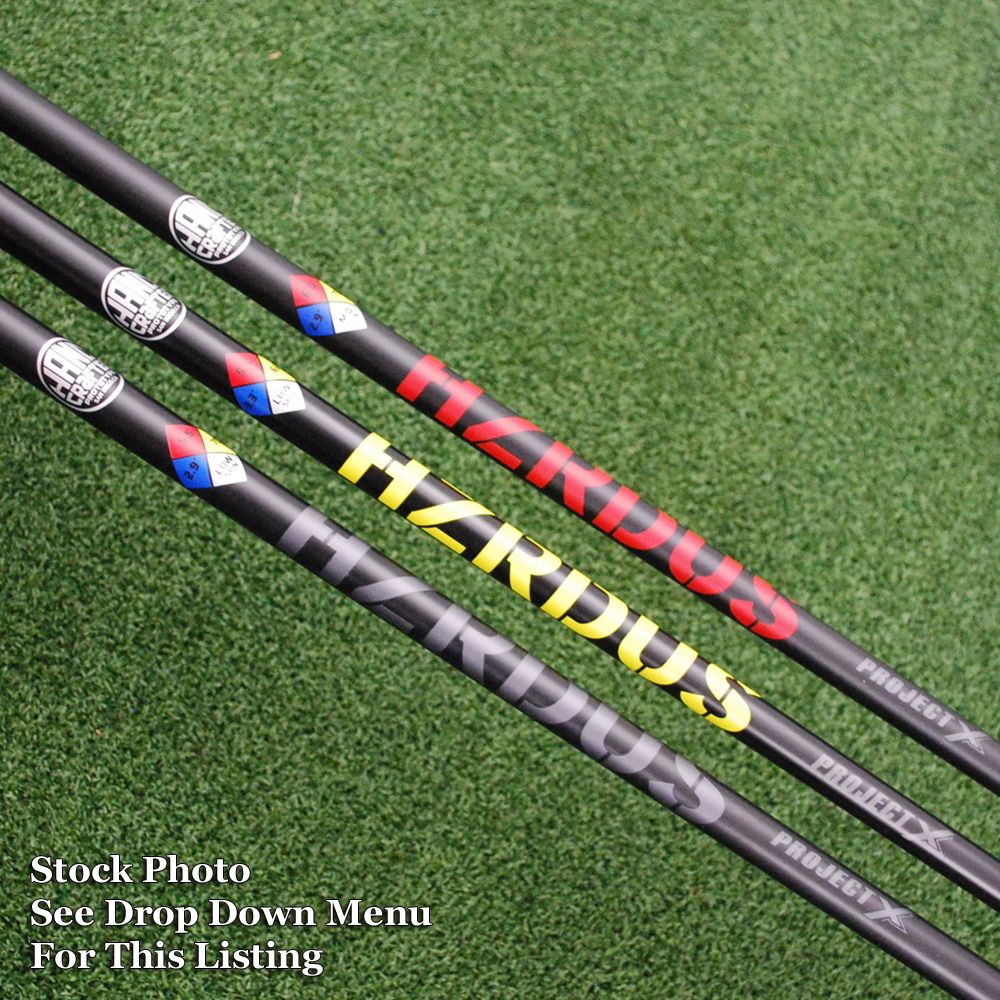 © The Golf Market   All Rights Reserved   INTERNATIONAL BUYERS, Please Note:  Customs Duties VAT, brokerage fees etc. are the buyer's responsibility.
Documents are ALWAYS truthful. We cannot mark as "Gift" & only with the actual values.  For more, contact your local customs office.